Human dysferlin missense mutation and deletion constructs
Human Dysferlin missense mutation constructs:  115 human cDNA constructs with individual DYSF missense mutations.  Developed by Dr. Mohan Viswanathan and Dr. Lenny Guarente.  Information about availabe missense mutations can be obtained from the Jain Foundation
Human Dysferlin deletion constructs:
Plasmids containing human dysferlin with every single exon that can be skipped without disrupting the open reading frame are freely available from the Jain Foundation. These human dysferlin deletion constructs are in the multiple cloning site of pUC57-Kan and can be easily cloned into expression vector for analysis. All constructs were made using the full-length original human sequence which contains exons 1 and 17, but does not include 1a, 5a, or 40a (accession #NM_003494).
Deletion construct Requests:
All of the deletion plasmids are available from Addgene.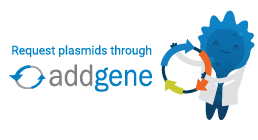 Download sequence information:
When you click on the links below, you will download a zipped folder containing 4 files including: 1) A pdf with the vector map, full length sequence information, locations of unique restriction sites, and the location of the deletion, 2) the full sequence of the plasmid and insert in a word document, 3) the full sequence of the plasmid and insert in a fasta file and 4) a fully annotated sequence file that can be opened using DNAStar Lasergene software.